3D Vectoring – The V Effect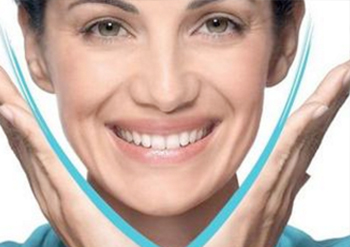 The V Effect
At Innovate Dental Studio we can now offer Radiesse® Volumising Filler for deep wrinkle correction, shaping and contouring.
A young face has a 'V' shape
The younger the face, the firmer the skin and the more defined the contours. The face is symmetrical and 'V' shaped.
With ageing the 'V' turns upside down
Regardless of how good our genes are, all types of skin eventually lose their tone. Proportions shift and volume reduces. Cheeks sink downwards, the chin goes limp and the face becomes broader towards the bottom. The result: the youthful 'V' slowly turns upside down and our age becomes increasingly visible – regardless of how young we feel.
Which areas are most affected?
The age-induced lack of moisture and the slowing of cell renewal lead to a clear loss of elasticity, tone and suppleness. The result is deeper wrinkles, particularly around nose and mouth, and sometimes also on the chin. Cheekbones and cheeks are the areas most affected by the loss of volume. Also as our skin becomes less taut, the jawline begins to sag. Our hands can also give away our age as our veins and bones become increasingly visible on the back on the back of the hand.
What is the secret of turning the 'V' back?
The V Effect is the key to restoring a youthful look. Instead of treating the individual wrinkles, the face needs real revolumising. With the right volume and the right proportion, the face will regain the optimum 'V' shape, and wrinkles and sagging will naturally reduce.
Radiesse® – for volume and contour definition
The V Effect volume formation can be achieved with the dermal filler Radiesse® . When Radiesse® is injected into the skin the gel-matrix of calcium microspheres pushes up the contour deficits, providing a lifting effect and giving instant volume. And for even greater benefit, the calcium microspheres stimulate the production of your own natural collagen, which will further build the volume to achieve the V Effect. The results can be seen for 12 months or longer in many people.
Dual effect volume formation
Immediate effect due to elastic gel matrix.
Long-acting effect thanks to collagen stimulation.
Safe to use
More than 3 million packs of Radiesse® have been used by practitioners and patients worldwide since 2004.
Radiesse® is one of only a handful of dermal fillers approved by the US Food & Drug Administration (FDA) who have very high standards for safety.